It may be getting sunnier, but there's still a cool breeze in the air, so dress the young'uns in spring fresh clothing whilst keeping 'em cosy.
From denim pinafores, to soft tracksuits, your kiddies can run (or waddle) along in their favourite clothes forever… well at least until they grow out of them… again.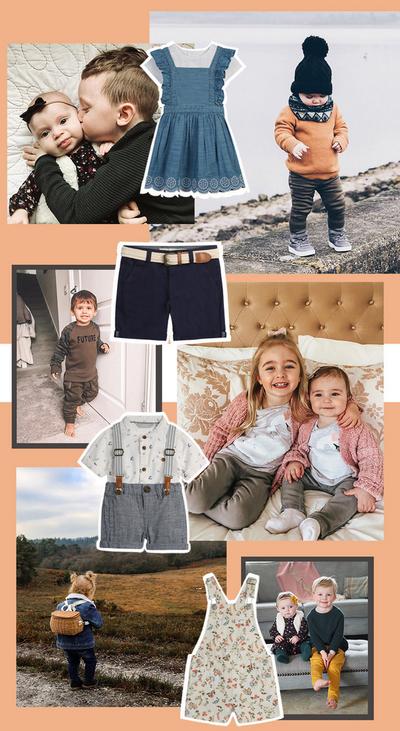 Inspiration posted by : Jordan, Rita, Thomas, Sophie, Charlotte, Archie and Indie
The adults can't have all the fun with the denim trend! Let the kids join in too with a stylish trucker jacket, or frilled pinafore dress. For a chilly day, throw a cosy jumper underneath pinafores and rompers to keep them warm, yet looking cool. Inject some springtime freshness into the mix with cutesy swan and floral print t-shirts, styled with a dusty pink cardigan during the day, or a denim jacket for chillier evenings.
Loungewear on kids not only looks super adorbs, but it's comfy and is perfect for the park, movie days, and sprinting around the grocery store. Start with our khaki tracksuit, the perfect colour that is 'messy play days' appropriate (we've thought of it all!). For days they want to bask in the sun and get grass stains rolling around on the floor, switch the tracksuit top for a comfy tee and cardigan as modelled by one of our fave sister duo Amelie and Morgan, thanks girls!