Women
Stacey Solomon X Primark: The Panel
To celebrate the launch of Stacey Solomon's second Primark clothing collection the star hosted a panel packed with inspirational women. Giovanna Fletcher, Megan Rose Lane and Simone Powderly each took a seat to chat with Stacey. Talk turned to topics such as self-care, life as a working mum, body image and body positivity and social media in today's society. Read on as we share some of the highlights: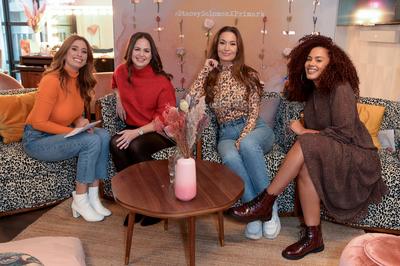 On style, the ladies were in agreement that comfort comes first...
Giovanna Fletcher
'My style depends on what I'm doing, sometimes I'll come downstairs and Tom's like seriously. I present children's TV sometimes but I dress more like a children's tv presenter when I'm at home! Because I'm often writing I don't want to sit at my desk and feel like my jeans are digging into me, so the comfier I am, the better.'
Megan Rose Lane
'Jeans, a t-shirt, a big jumper, trainers and sometimes a denim jacket, that is what I live in! Whenever I'm shopping I'm literally looking for the most comfortable things I can get, the sort of things I can wear, eat lots of food in and not worry about them getting too tight'
The panel also discussed body image and mainting body positivity, subject close to Stacey's heart.
Simone Powderly
'I experienced childhood trauma so in my teens I just wanted to cover up and wear baggy clothes, my friends were always just like show your body but I never wanted to. Every time I wanted to go out I'd have a tight dress ready but I'd always choose the looser one. When I was working with my therapist one of my personal goals was to feel able to wear bodycon dresses and everyone was like I can't believe that that's a goal for you. But now I think I've defined that feeling sexy for me isn't about wearing tight clothes, its feeling comfortable in what I'm wearing and feeling good'
Stacey Solomon
'I feel like positive body image is a constant battle. It's one of those things that I am consciously making an effort towards every single day. I do feel confident in my body, I love who I am but having that attitude is something I have to consciously think about every day'
All of the ladies on the panel, including Stacey, use social media often so Stacey asked for their thoughts on the subject...
Giovanna Fletcher
'I see social media as a really positive place, especially Instagram. For me, you curate your feed, it's your safe space so for me I follow people who make me feel good and in terms of motherhood, I feel it's a lonely and isolating place so being able to tap into other people who are going through the same things as you. If we can all be together and give each other support hopefully that helps. I do get negative comments but then I remember that what I'm posting is not for those people, I just delete it, it's my page and I don't want other to feed off that negativity'
Megan Rose Lane
'I think that social media is what you make it and people often forget how much control they have. I think it can become a toxic place when you're constantly comparing yourself to others or if you follow accounts just because everyone else does, I think people forget there is an unfollow button, you can and should go through your social media and get rid of those account that don't make you feel positive'
Simone Powderly
'I work with young girls and I always speak to them about being mindful when you're having conversations about certain subjects on social media because you can trigger negative feelings for people that might be going through trauma or something similar to what you're commenting on. I tell them to follow people that make you feel good, I love water so I follow lots of pages that post pictures of oceans and I always hope that they show up when I go on there!'
Finally the panel talked about handling returning to work after becoming a mum:
Giovanna Fletcher
'Its okay to be the best mum and still have a career. There's so much pressure, to be either this or that.I think it always going to be hard and it doesn't matter when you do it you're always going to have the guilt. You feel guilty for not being there, you feel guilty for being there when you have other stuff to do, you feel guilty because you've forgotten stuff, there's just so much guilt that's going to be there throughout motherhood, it never ends!'
Stacey Solomon
'I think we often tell ourselves its okay to work because you're working for your children. But also I work because I love my job! Sometimes I feel bad that I love my job. Should I love it? So I be excited to leave? Or should I want to always be at home with my children? Sometimes its a mental battle, like am I allowed to feel this way. Now I just allow myself to feel whatever!'