Women
Stacey and Friends Talk Wellness
At the London launch event of the latest Stacey X Primark collection, we focused on celebrating female empowerment and body confidence. The event featured a mindfulness meadow filled with lavender and delphinium florals, a strength marking studio, alongside a live panel with 4 empowering women openly discussing all things fashion, social media, and motherhood. It's fair to say that this event was overflowing with words of affirmation, and below we have gathered advice shared by the wonderful panel on how they remain mindful of their mental wellbeing and practise self-care.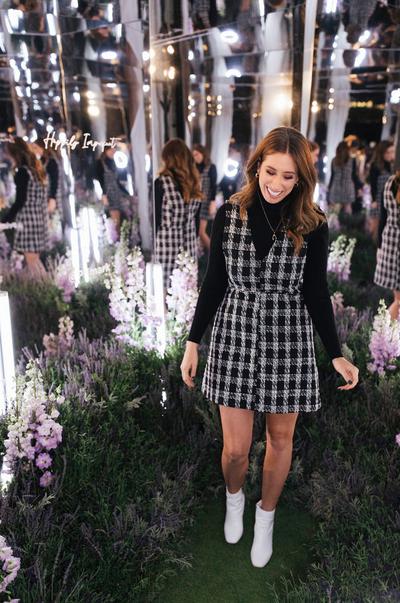 Stacey Solomon
"The only thing I find that really helps me is to ask somebody else. I have this anxiety about dying and I remember saying to my sister 'Oh I get paranoid about whether something might happen to me, and that the children will be all alone'. She said 'Oh my god I get that all the time'. I've spoken to so many people who feel the same, and there's something so therapeutic knowing that you're not on your own. Talking is the biggest part of me being able to manage my mental health. Also, knowing services and being able to openly say to someone 'I might need help, is there anyone out there who can help me?'. You'll be so surprised about the charities and services available."
Simone Powderly
"Mine is I wear bright colours! I have PTSD, so I suffer with flashbacks and nightmares. So, if I wake up in the morning and I know that I've had a nightmare, I'll wear a bright colour and it really helps. Then when I'm walking down the street because London's so gloomy, it'll reflect and people will smile at you. I'm so into self-care and pampering, but sometimes I'll just have a long shower and cry it all out, I literally just let it flow. I will also say, find one thing within your inner child that you love and just do it. So, for me that's dancing, I love music!"
Megan Rose Lane
"Mine is meditation, it's my number one thing to do that I love. I do some guided meditation, but for me I really love to wake up first thing in the morning before anybody else, go downstairs, put on classical music, and just sit and breathe for ten minutes. I concentrate on what I feel grateful for, from the food in the fridge to the roof over my head. I'll just conjure up this feeling of gratitude, so much so that you feel you could cry. That for me is just so healing and it's the best thing you could do if you're feeling anxious, insecure, or worried about anything."
Giovanna Fletcher
"I go for a run. Which I never thought I would say, six months ago I couldn't think of anything worse. For me, I can feel so bogged by my to-do list and family life. But, going for a run, even in that 30 minutes although nothing changes and nothing gets sorted, I'll come home, and everything is lifted. The list is still the same, but my mind can see clearly now. We've been taught to exercise for our bodies to look a certain way, but exercise is for our minds, it's amazing!"